The end of planet earth's human civilization is approaching. If AGW triggers further methane releases from sea, lakes and frozen tundra there could be a leap in temperature.
The CO2 level is now 411 ppm. At the current rate of growth, it will double in 50 years to 800+ ppm. There is no sign that CO2 rate of increase is plateauing let alone decreasing.
Bobby and his dad The Mechanic are certifiable morons.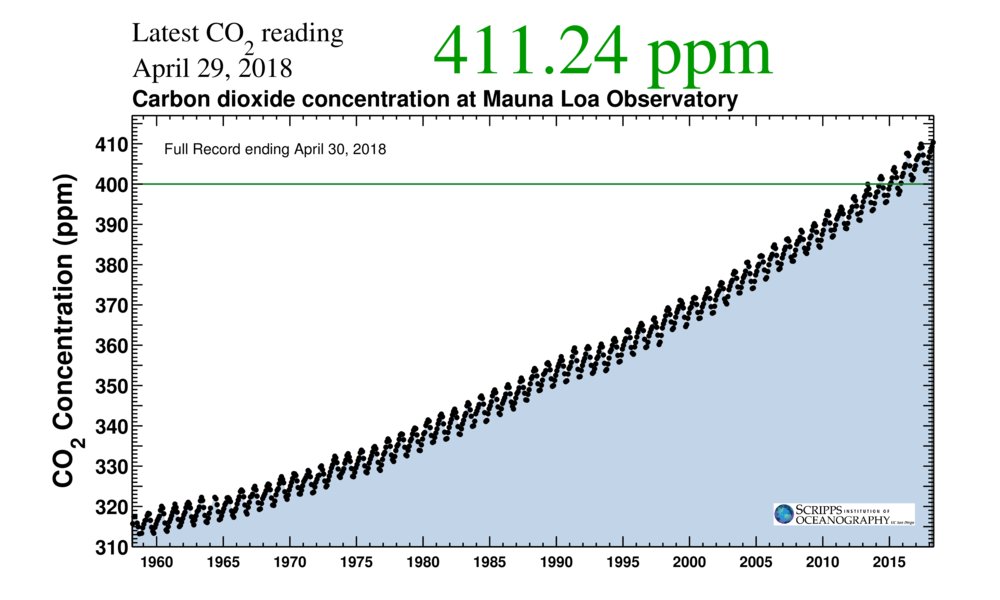 https://www.usatoday.com/story/news/2018/05/04/global-warming-carbon-dioxide-levels-continue-soar/581270002/
Earth's carbon dioxide levels continue to soar, at highest point in 800,000 years
Doyle Rice, USA TODAY Published 2:26 p.m. ET May 4, 2018 | Updated 9:40 a.m. ET May 5, 2018

A United Nations agency says the amount of carbon dioxide in the atmosphere shot up to its highest level in 800,000 years. Video provided by Newsy Newslook

Carbon dioxide — the gas scientists say is most responsible for global warming — reached its highest level in recorded history last month, at 410 parts per million.

This amount is highest in at least the past 800,000 years, according to the Scripps Institute of Oceanography. Prior to the onset of the Industrial Revolution, carbon dioxide levels had fluctuated over the millennia but had never exceeded 300 parts per million.

"We keep burning fossil fuels. Carbon dioxide keeps building up in the air," said Scripps scientist Ralph Keeling, who maintains the longest continuous record of atmospheric carbon dioxide on Earth. "It's essentially as simple as that."

Ralph Keeling and his late father Charles David Keeling have kept carbon dioxide (CO2) measurements at the Mauna Loa Observatory in Hawaii since 1958.

The average concentration of carbon dioxide in the atmosphere was 410.31 parts per million (ppm) for the month of April, according to the Keeling Curve measurement series.

This marks the first time in the history of the Mauna Loa record that a monthly average has exceeded 410 parts per million. It's also a 30% increase in carbon dioxide concentration in the global atmosphere since the Keeling Curve began in 1958.