More election losing Unfunded SCAMS from the sinking fast Labor shemozzle.
Labor pledges thousands of extra teachers in $14 billion plan
AAP Updated 4 hours ago
Puffing Billy blows the "LABOR FUDGET" out the door.
Bill Shorten says Labor's $14 billion education plan will fund more than 13,000 extra teachers.
Labor leader Bill Shorten is promising to employ thousands of extra teachers at public schools if he wins the next election.
Thousands of extra teachers will be employed in Australia's public schools as part of a $14 billion, 10-year education plan if Labor wins the next election.
Bill Shorten says the promise will fund more than 13,000 extra teachers or 23,000 teachers aides, in the biggest investment in public schools in Australian history.
The promise comes after the coalition government stitched up a funding deal for Catholic and independent schools, which felt changes to funding models had left some of them worse off.
Labor had already promised extra funding for Catholic schools, and is now detailing what it will give to public education, with $3.3 billion flowing in the three years after the election.
"What matters to me and Labor is handing on a better deal to the next generation," Mr Shorten said on Wednesday.
"That's why I'm passionate about building an education system that gives every child in every school the best chance at life."
As a condition of the funding, a Labor government would require state governments to invest strongly in schools and sign up to a national plan to improve them.
"Public schools teach two in three of all school students, and the overwhelming majority of Australia's neediest children," Mr Shorten said.
That includes 82 per cent of the poorest children, 84 per cent of indigenous children, and 74 per cent of children with disabilities.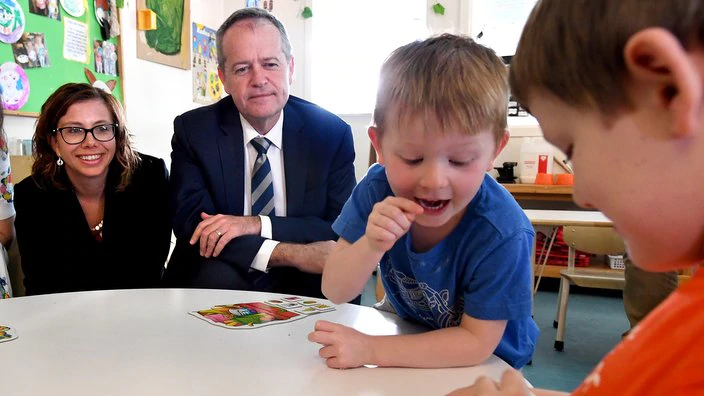 It comes after Labor pledged $1.75 billion to early childhood education
Labor says the extra money will ensure public schools can give students more individual attention, and more help with the basics such as reading, writing, maths, and science.
The coalition government recently announced a $4.6 billion deal with Catholic and independent schools to give them extra funding, but it frustrated state governments who felt they were being short-changed.
Federal Education Minister Dan Tehan has said record funding is going into education, and he is negotiating with states "in good faith".
NSW Education Minister Rob Stokes has said the states would need $7 billion extra each year to catch up to the deal offered to Catholic and independent schools.
https://www.sbs.com.au/news/labor-pledges-thousands-of-extra-teachers-in-14-billion-plan