Also a tiny bit of porcelain is included in this category.
1946 and Germany is prostate and divided after 12 years of totalitiarian rule. What sort of pottery you think a nation like this might produce? Something sombre, subdued, hinting at pain, repression?
Nope nope nope! A whole new type of pottery emerged, bright, outré and full of confidence! The artistic spirit of free expression had been denied, oppressed but not broken!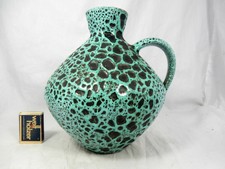 Just cop the above (in a "volcanic" glaze.) I like collecting this stuff, just a small part of my collection:
Tiny bits of fat lava got made in Norway, France, Holland, Austria. A secondary centre was in Italy, which also suffered from oppression. Some was made in East Germany, a lot of it rubbish but some good. At the height even some got made in Australia because the factories could not keep up with demand. West Germany was the heartland of fat lava/retro etc pottery.
On my shelf the three pieces on the left are from the 1940s, studio pieces that predated the fat lava era by a few years. They are an expression of the "Deco Echo" that inspired the early pieces. On the right is a typical fat (a thick glaze with some drip effect) lava piece.
A second shelf:
The piece on the right, a striking shape, is THE iconic piece of fat lava. A pitcher in shape (unusual shape for a pitcher!) not glazed on the inside, just a piece of art. The Ruscha 313. Mine is the early, original shape. It proved a bitch to remove from the mold and got modified twice for easier production. THE flagship piece of midcentury art. And was introduced quite early.
Hitler didn't like Art Deco, art had to support his idiotic idea of nazism, racial purity and all that bilgewater. So the German potters revived art deco in their way, using curves not geometric lines. The fat lava vases have handles, usually only one, very unusual in a vase where you have two handles if you have any at all.
By the late 1970s the fat lava period had run out of steam, some of the factories closed, others turned to making crockery for the kitchen etc.
I have my eye on this piece of Italian fat lava. It is quite striking, yes?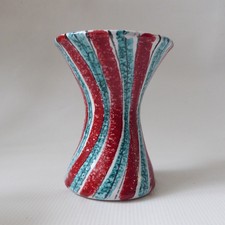 Hmmm on the first shelf on the right is a book titled "July 1914" (damage to the spine hides part of the 1914 bit.) It is about diplomatic efforts in July 1914. Ineffectual, the next month the guns were speaking and 4 years of mechanical massacre lay ahead, followed, by diplomacy failing the peace, by 12 years of the Thousand Year Reich. I don't open that book very often.